Day 2 (Saturday, January 28)
The rooster alarm goes off at 5:24 am followed by fireworks at quarter to. I've had a good rest so not complaining but unsure why the celebrations had to start that early. I decide to lie in bed and notice a stiff back. Four days of no-yoga-stretching compounded by a heavy duty bus ride has revived old back injuries. I throw the red and black blanket on the floor that reminds of being at home in India and breathe deeply.
After a breakfast of oatmeal and fresh cantalope, we decide to walk around town. The market is just a block away. Laurel is enamoured by the street vendors and busy taking photos. It's just the first full day in Guatemala and I need to take more in. The busy market is familiar from my Indian childhood and visits to India. I look for other novelties. I spot sayings from the bible on walls everywhere. And even on tuk tuks. The latter reminds me of India – how religion is so interwoven into daily life. Every taxi or rickshaw sports an image of their favourite God. And there's always a fresh garland around it each morning. The same was our experience in the few churches we visited the last few days – fresh, bright and colourful flowers in huge bouquets for Jesus, Mary and other saints.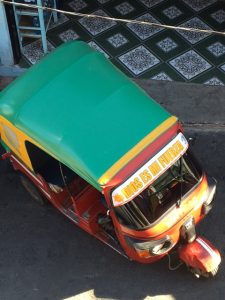 "God is my strength."
We walk along the main strip parallel to the lake. It is bustling with eateries, a few travel agencies and a handful of artisan shops.
My first purchase is at a women's artisan collective. My 10-word vocabulary has expanded to 15. The store front sells crafts from widowed and single mothers who can work from home. I say I will come back to ask more questions once I know mas espanol.
Laurel strays back a bit with a roll of string to hang our laundry. I ask her why she bought the whole roll. "Well, that's what happens when you don't have enough language," she explains.
We come back to our casa for a big almuerzo (lunch) and a short writing spree and we head out again.
Laurel is being extra careful while crossing roads but my Indian survival instinct kicks in and I am crossing roads and darting between vehicles with ease. Maybe because the cobbled stone roads are narrow and steep, to me, the drivers seem cautious and considerate.
I am making mental notes of restaurants and coffee shops. I cave in to my chai cravings at a restaurant appropriately named Shanti Shanti (peace, peace).
At the end of our first full day in Guatemala, we had leisure-walked 9.2 km and climbed 43 floors.
Day 3 (Sunday, January 29)
Domingo – the day of the Lord.
The rooster alarm was over-ridden by a human one. There's several churches around us and one of them breaks into song at 5:45 am for an early mass. The music is played on a loud sound system that extends for miles. The choir is accompanied by a few electronic instruments giving the impression of bing somewhat 'pop'py.
Sunday is the only day we have to fend for our meals and being vegetarian and more particular about cramming in as many food experiences as possible, I am nominated to make the decisions. We opt for Cafe Atitlan. I choose a Hippie Burrito without eggs while Laurel goes with a Hippie Breakfast. So much for having sworn to try only local foods. But Laurel is not ready to try street foods yet. I vow I will try some before I leave. The cafe has a Canadian connection offering a Saskatchewan breakfast and a Maple Lunch special. There weren't tributes to other countries though!
We decide this is one of the days we can make a day trip and choose a 15-minute boat ride to San Marcos. This is a hippie town known for meditation centres, yoga classes, organic restaurants offering gluten free and vegan options. As we walked around town, we were followed by a voice of a preacher on a PA system giving a non-stop 2 hour sermon.
We had another hippie lunch, mainly because I couldn't find a place offering local cuisine. Shambala, the restaurant we ate at, bought vegetables grown by monks and nuns from a monastery in town. Quite a few restaurants and coffee shops in San Marcos were owned and run by extranjeros (foreigners).
After a long day of walking in the sun, we manage to cool down on the boat ride. We stopped at another Women artisans' collective and I said I would come back for more conversations.
We get home and Google shares that the Catholic Church had a service at 6 pm. Having studied in a convent, I continue to be drawn to Catholic Churches, especially for their music.
The church fills up with over 500 people with standing room only. And this was the fourth Sunday service that weekend. Little kids were running around and parents were cool with it. Since we couldn't comprehend what the priest was saying, I occupied myself watching the kids while Laurel paid attention to the women's fashions. Of course, we stayed on task in church with the regular standing up, sitting down, kneeling down, offering to the collection and shaking hands to wish "Peace to you." The service seemed longer than the ones I have attended in Valemount but our host Alejandra would tell me later that iglesia (church) services in Guatemala normally range 2 to 3 hours. We had got a deal with one and a half!
All the women in San Pedro wear their traditional skirts and blouses. The men had graduated to western clothing. Laurel noticed that the older women did not have gray hair. It reminded me of my own grandma, who showed the first signs of grey hair only in her mid 70s. I glanced at my own head in the mirror. Definitely, more black hairs are giving up their seats to the white hairs this year. I don't mind. If it means I have more in common with my young friend Naomi, I'll take it.
Dinner at Shanti Shanti since one of my other picks was closed for the evening. I am faking three word phrases in espanol to greet and order food. Laurel refers to the English portion of the menu and the waitress suggests, "Would you like to try in Spanish?"
One thing I noticed during our first two days is how locals were helpful in encouraging us to speak in Spanish and would correct or prompt us with such kindness. Maybe because San Pedro is known for its Spanish schools and the community rallies to help as well.