quince dia (el viernes, el diez de febrero)
Another early morning start to continue our travels. We reached Las Flores International Airport and check in our bags. We go through a detailed baggage check to ensure we're not removing any Mayan artifacts from Tikal or surrounding areas. I get embarrassed and apologetic about my crammed suitcase. Off for some breakfast before our 8 am flight. I have been coffeeing myself the last few days, but that's the price I pay when I travel as I am not a big fan of "just" black tea.
We arrive at Guatemala City and meet our shuttle driver to continue on to Antigua, where we are to spend the next two nights. Antigua was the former capital of a larger region that included other Central American countries during Spanish rule, until an earthquake in 1773 demolished several buildings and required the capital to move.
We leave our bags behind the hotel front desk as our rooms are not available yet. Antigua is a tourist town with interesting Spanish architecture.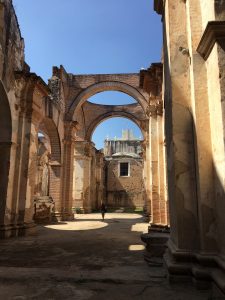 A Cathedral in Antigua that now serves as a tourist attraction.
We are in tourist browsing and shopping mode – one of my least favourite pastimes. I practice reading signs, continue conversations with Garnet and take in the Guatemalan version of a food truck – in the back of a small pickup – serving lunch on paper plates to workers. We enjoy a gourmet lunch and have more walking around to do before 3 pm, when we can check-in. Patricia, our tour leader, who has been in Antigua several times, shows us some of her favourite shops for textiles and jewellery. And then she walks us into the oldest candy store in Antigua – Dona Maria Gordillo: Dulces Tipico (Typical Sweets / Confectionery).
All my lethargy, after a large meal and pointless window shopping, magically disappears and luckily I find an ally in Neil. There were different kinds of sweets made with fruits, coconut and milk. I did not see any made from chocolate. A store attendant describes the delicacies to help Neil and I narrow our picks to five different kinds. As the shop didn't have a place to sit down and eat, we're forced to continue the rounds with the group carrying the treats like frustrated children without being able to try them.
Many of the buildings in Antigua and other communities are built attached to each other giving the impression, they are tiny and cramped. But once you enter the small doors, there is often a lot of space for the restaurant or store. Sometimes, the doors open into a big courtyard and there's many small stores in almost a mini-mall kind of setup.
In one such courtyard, we find two native women display their crafts. My poco espanol comes handy and we learn that the women travel 45 minutes each way from their hometown on the outskirts of Antigua to sell their work. Marilyn is excited to practice Spanish as well and together we ask about how long it takes to weave different pieces and how much they cost. An intricate table runner that took one of the women 100 hours to weave was US$45 (and there's quite a bit of cost for the materials associated with it). Marilyn was thrilled to be able to buy the piece as she was able to have a conversation with the woman who made it. She talks to the other artisan and discovers they are "hermanas" or sisters after nearly 20 minutes of conversacion. Marilyn breaks into big smiles (and I can almost see her clicking her heels in delight) because she knows what 'hermana' means from her Duolingo Spanish lessons. "Just from knowing what hermana means, I feel my tour has been worth it, and I am happy to go home now," she declares with much gusto.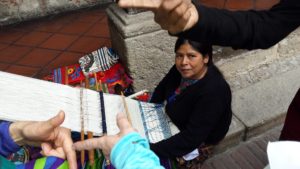 When you have poco espanol you need all the pairs of hands and fingers available to help communicate with one of the 'hermanas'.
Meanwhile Neil and I are commiserating on how we can tend to the unopened box of treats while the majority remain focussed on shopping. We decide to indulge into some of the less messier sweets in the courtyard. We had napkins and there was a fountain to dip our fingers into to clean off. I love the sweets – they are not as sweet or greasy as ones usually baked or fried or the sweetmeats I know from India. In fact, none of these sweets seem to have been baked – many of these seem to have been cooked and hand moulded to different shapes and beautifully garnished. We manage to taste all except a half of a candied orange filled with a lightly sweetened mixture that includes almond paste – I pinch off bits of the paste but don't have the implements to cut the two pieces of half-orange desserts to share and need more patience until we get back to the hotel.
When we finally reach the hotel, we barely put the bags into the rooms and Neil and I tell others to meet us in the breakfast area. The coffee pot is conveniently on. Neil manages to ask the staff for a plate and knife. Marilyn giggles as she watches her husband Neil (who is close to my father's age) and me go about our sweet indulgence and says, "You guys are funny to watch. You're acting like a bunch of little kids."
I don't care how we might appear. It's the sweet nothings that often count in life!