Image: View from the top of Temple 216 at Yaxha
catorse dia (jueves, el nueve de febrero)
After a couple of days, I have a morning to myself. Yoga at 5:45 am in the dark in our hotel room, so as not to wake up Laurel, and then off to the patio in my pyjamas to write / type. I go down to get some breakfast and try my espanol for fried bananas with cream and a side of hasbrown! (I needed a break from fresh fruits and opt for all the deep fried no-huevo, no-carne opciones on el menu.) The waitress looks to me to help translate for others and I am taken aback as I only know a few more words than the others. After breakfast, I get enough time to get caught up with writing while being grateful for the +30C (while others at home are combating -29C) and then we all head for lunch at noon.
One thing that's been happening in Guatemala is the large portions of food for lunch and dinner. Alejandra wouldn't give me a choice when she loaded our plates and during the tour, most restaurants serve portions for the eye than for the stomach. And I definitely lack self-discipline when it comes to food, because I don't want to miss on on flavours. Which is why potlucks at home are great but also difficult for self-control! Thankfully being vegetarian and trying to stay gluten-free reduces my gluttony by two thirds! And also saves me time when it comes to making a choice. Or I would be worried about what I might be missing out on. I opt for the humble guacamole and (more deep-fried) tortilla chips. And feel stuffed even at the end of that!
After lunch, we meet our guide Luis who takes us to another lost Mayan settlement called Yaxha (pronounced Yas-ha). We are familiar with astronomical buildings by now. Luis shows us a narrow ball court between two sets of stone bleachers and tells us of the crazy tradition that Mayans had for winners – that the winners were the ones who died (or rather killed)! I guess either way you win some and lose some.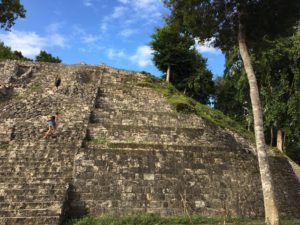 We climb a building with sketchy stone steps and document the view. Finally Luis takes us to the grand finale – the top of Temple 216 – to take in the sunset. From the ground, I see the top is quite crowded with people and I wrestle with the urge not to follow the crowd. Luis tempts me by saying that the view is astounding, so I give in. An amazing sunset is to come but we don't wait since some of our group have been waiting patiently for us at the bottom. Luis shows me a panoramic photo he shot and inspires me to try my first on my smartphone. But there's too many people on the narrow ledge!
We're back only at 7:30 pm and head straight for supper. We meet some folks there who were on our shuttle from San Pedro to Guatemala City a few days ago. We had also run into them at Tikal. One of them jokes, "It's a small country."
An easy-paced day is matched by easy emotions on my part – no breakthroughs or breakdowns. Simple is acceptable!
Dinner is followed by lights out by 9 pm for me since I need to shower and be ready by 6:15 am for our flight back to Guatemala city.