dieciocho dia (el lunes, el trese de febrero)
Our first full day in Quetzaltenango, also known as Xela, and I feel at home, in a way. We start the morning with 7 C and the day time high is 17 C. Of course, homes or hotels are not heated and we rely on heavy blankets to keep us warm at night. Some of my warmer clothes in my luggage finally feel justified. But that's where the similarity ends.
Xela is the second largest city in Guatemala and I see more poverty here than in the other places we've been to; except Guatemala City, where we didn't step out of the hotel or airport to get a sense of the place. The disparity in wealth is highlighted by the five McDonalds, two Pizza Huts, Burger King, Taco Bell, Walmart and other chains just in Xela. Most big cities across the world are windows into the inequality in wealth as compared to rural towns because so many people migrate in search of jobs but are challenged to find a suitable place to live or decent work to make a living.
After breakfast, we set off to visit the Health Centre in Momostenango. We are greeted by the Centre's Director Dr. Ariel Diaz and other staff. I feel like we're part of an official international delegation when the hospital staff play the National Anthem of both Guatemala and Canada. We even had a national reporter come and cover our visit.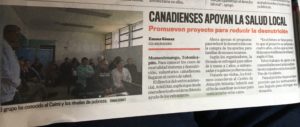 This Health Centre doubles as one for general care and one for Maternal, Newborn and Children's Health. The reason why this stop is part of our trip is because Horizons of Friendship was successful in bidding for a Global Affairs Canada call for proposals and is delivering a $15.2 million Reducing Gaps for Indigenous Peoples initiative to reduce maternal and child mortality in Guatemala's predominantly indigenous department of Toconicopan. Horizons is the project manager while its Guatemalan partner PIES de Occidente (Association for Health Promotion, Research and Education) is delivering the project on the ground through the Momostenango Health Centre, training and equipping local midwives, delivering nutrition and family planning programs as well as counselling families on breast feeding and immunization. This project will enable the Centre to add 50 more people to its present 150 staff.
Dr. Diaz presents us with some interesting statistics: In 2016, the centre provided prenatal attention to 4600 pregnant women. Of them only 459 had births at the centre, while the remaining mothers, with the help of midwives or family members, had births at home. This statistic is not unusual as the area is large and mountainous making it difficult to travel and also has a high indigenous population – 95% Mayan K'iche' – who have traditionally birthed at home. Hypertension is the leading concern during and after pregnancy, while hemorrhaging is the number 1 cause of maternal deaths.
Dr. Diaz was not bashful in saying that while there is enough resources for health facilities across the country, corruption is the biggest challenge in Guatemala leading to sold / stolen resources even before it comes to the centre, unpaid hospital staff for as long as 6 months and a lack of supplies to operate the ultrasound machine or gas for the ambulance.
He did not stay with the bleak reality for long, as he went on to talk about the successes achieved by the Centre. The Centre's nutrition programs has been able to address malnutrition in the region. Horizons and PIES will help with delivering food supplements to mothers and infants up to 2 years. Dr Diaz explained, "Kids are not smiling when they first come, but they bounce back after one to six months in the nutrition program and are soon smiling, like normal children do."
One aspect that warmed my heart was when Dr. Diaz introduced his staff at the beginning – from the only other doctor to nurses, anesthesiologist, custodial and administrative staff. He referred to each one of them as an integral part of the team and it wasn't just lip service. When Dr. Diaz gave us a tour of the Health Centre, he showed us the maternity and general wards and gave credit to Jorge, the custodian for ensuring that no patient has, to date, picked up an infection at the centre.
The maternity ward had been redesigned with indigenous textiles to make the women feel more at home. There was even a traditional shrub called Ixbut visible through the window. Dr. Diaz told us that the plant helps mothers with lactation and explained how Jorge tended and covered the shrub to protect it during extremely cold nights. We noticed how the staff in the background were joking with each other and smiling. The director told us that the staff have had to come up with their own team building exercises to help them cope with stressful work conditions. Sometimes, staff are sharing their food with patients who are away from home – and these are hospital staff who haven't been paid for 2 to 6 months!
Dr. Diaz shows us the room where the ultrasound machine (on the extreme left) is often lacking the gel or the paper for ongoing use.
To thank us for the visit, Dr. Diaz even dipped into his pocket to present each one of us with a bag of local fruit with a caution, "They might not be very sweet because they have been grown without the use of pesticides."
While it is often easy for me to fall into despair when I see and hear stories about injustice, I left the Centre feeling good after meeting people like Dr. Diaz and his staff, who carry the torch of hope for the rest of us, with their work and positive attitudes.
With each passing day on this trip, I feel enriched by many lessons and gifts from one of the poorest countries in the world.