DIez dia (el domingo, el cinco de febrero)
I woke up to church bells at 4:55 am after getting to bed before 9 pm last night. The first alarm was followed by three other sets of church bells from different directions. The neighbouring rooster came through around 5:30 am.
(By the way, my Day 9 blog is dedicated to Ellen who observed that a rooster features in my daily writing. I somehow kept gallo (rooster) from that day's account and want to acknowledge that it took some effort not to mention the rooster/s. And a disclaimer: please don't use my blogs to learn or advance your Spanish: the nouns might be fine, but the pronunciations are not as they appear and my grammar is definitely written like a foreigner. But then I might have a test at the end of my blogs to see how carefully you've been following palabras de espanol.)
Back to Day 10 – I get ready to go down around 6 am to make my chai and Laurel requests if I can make her some too. Sunday is fend-for-yourself day and Laurel would rather have me bring her chai than make some coffee after a tremendously tiring hike the day before. I serve her tea in bed and head downstairs to the living room and write my Day 9 blog. Fend-for-yourself means that we don't have to promptly be in the kitchen by 7:30 am. It feels like a regular Sunday at home, when I sometimes choose to have breakfast at 1 pm. However, Laurel is keen to take pictures of the big market (mercando grande) and I peel myself from much-desired unstructured time and oblige. But within two minutes I have no regrets. The market is bustling with vendors from several surrounding communities. I tell Laurel that I need to walk from end to end before I start to buy and since I want to take some pictures of vendors, I will probably make purchases at those vendors. My journalistic instinct gives me a hard time taking pictures of people without permission or I feel I am intruding. I ask people when I take pictures or take pictures from a distance. A couple of people did say no and I was glad to hear that because I would have said no too!
Laurel warned me that we should be getting better deals than the ridiculous prices we paid for nuts on Day 8. Not that she was going to help me bargain! Her Scottish blood had fretted for a whole day after we discovered that we'd paid four times the price for peanuts than we should have! I buy water melon, home-made cheese and coconuts. I patiently translate and convince Laurel that we were indeed buying coconuts with pulp and water in it! I really wanted to take pictures of a woman chopping and selling chicken meat out in the open to illustrate the differences between Canada and Guatemala when it comes to Food Safe. In spite of our strict guidelines, it's foreigners who are faced with a weaker immune system here while locals are fine!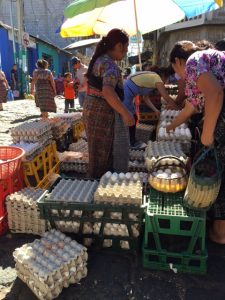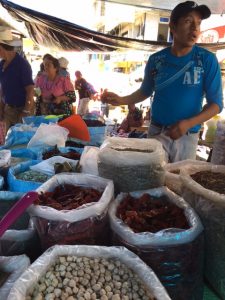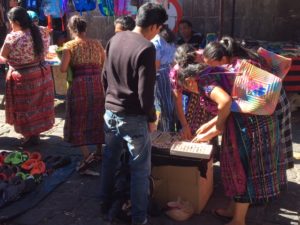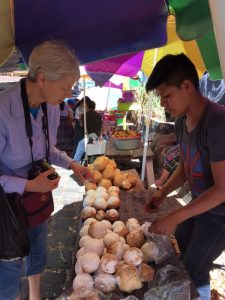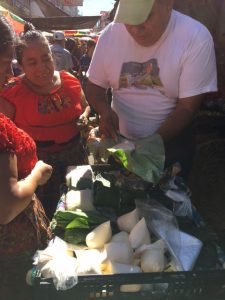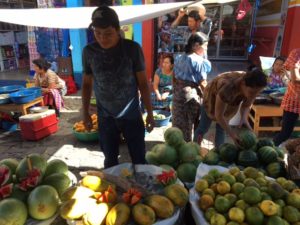 A variety of colours and merchandise is glory to my eyes!
We store our food at home and go to meet our classmate Penny from Saskatchewan for brunch. We spent 2-1/2 hours together talking about our common love for dance and some personal stories. Laurel goes home and Penny and I move coffee shops to work on our Spanish.
By the time I reach home, Laurel was ready for a swim in the lake. The day before we had scouted the best spot to get into the water. It involved jumping off rocks rather than a beach. The water was a bit cool for my Indian blood, so I was content splashing my feet in the water while Laurel swam.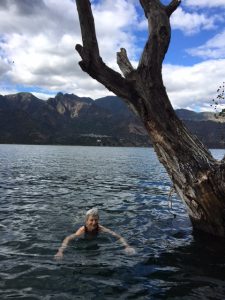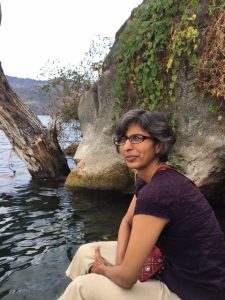 It was the perfect day to test the waters of Lake Atitlan
Shower and laundry and we're ready to meet Penny for supper. Once again, I notice how the locals help us with the language when we are placing our meal order. A 8-year old vendor comes in to sell purses made by him to support his music lessons and two of us buy in to his story. After dinner, we walk from one end of downtown to the other to find a place where Penny might be able to lead me through an Argentinian Tango, but all the places that are bellowing music are filled with slightly inebriated young tourists watching the Super Bowl!
Asi Penny, hasta luego – So Penny, until next time.