A cool morning in Tikal, Guatemala reminds me of Valemount, BC, Canada. 14 C to start the day when it was 30 C just a day ago can be a bit of a shock.
If I thought Spanish lessons were serious business, then this day would shift the rest of my trip to feeling humbled and privileged as we visit the first project partner.
Horizons of Friendship, based in Ontario, has been supporting projects in Mexico and Central America (excluding Belize). Since the organization's strength is project and fiscal management, they rely on partners in the community to deliver projects and drive change from a grassroots level in the areas of food security, climate change, rights of Indigenous and Afro-American peoples, community health, traditional ancestral medicine, migration and violence against women. With nearly 63% living in poverty (i.e. living on less than $2 per day), Guatemala meets the criteria for Horizons to deliver its mandate there.
We take a shuttle from our hotel in Antigua to arrive at Santiago Sacatepequez. We are welcomed by 6 women who are part of AFEDES (Women's Association for the Development of Sacatepequez). The organization was founded in 1993 by a group of Mayan women seeking to improve economic opportunities. One of the women, Milvian, spoke to us about the organization's journey. Their mission was to empower women through weaving and their work focussed around rescuing indigenous textiles and thus save their history and culture.
However Milvian said that self-reflection has been a key component throughout their meetings and work. The introspection allowed them to recognize that there are two ways of thinking – the neo-liberal capitalist way and the indigenous way. "The other way imposes on our way of thinking," concluded Milvian. The western thinking, which she feels, is rooted in capitalism, patriarchy and colonialism, in turn causes all the problems in their indigenous communities. Hence, AFEDES focuses on projects to reduce the effects of these three forces.
AFEDES did some soul-searching to determine what are the values and principles to live a full life of dignity and respect and came up with the web below.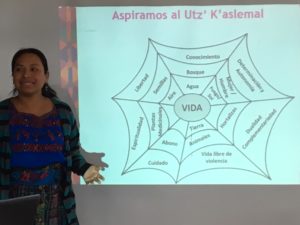 The four elements of nature – air, earth, fire and water – are at the core and essential to support life. In the second tier are secondary agencies like men and women, flora, fauna, natural fertilizer, medicinal plants, seeds, and forest. The outermost tier of the web constitute principles of conduct such as determination and autonomy, complementing, life free of violence, care, spirituality, liberty and knowledge.
Milvian emphasized that the last ring is important to help maintain a healthy spirit. "This is the philosophy of our organization," she shared with a deep sense of self. "If a project has a negative impact on any of these values, then we do not do it."
When Milvian reveal their web of values, I was forced to question my own bias that an ordinary collective grounded in weaving couldn't bring about much change. But I am only too happy to be proven wrong. AFEDES has gone on to farming traditional plants to reclaim Mayan medicine, creating a community medicinal garden, learning how to use Mayan medicine with help from the elders and teaching young people about health and anatomy.
AFEDES is using train-the-trainer model and 158 trainers have trained 2500 women in the tradition of weaving. During the process of reclaiming their textile heritage, this women's group discovered that plagiarism and industrialization is affecting their future. A hand-woven piece that would cost 5,000 quetzals ($1000) is being mass produced in China to sell for $10. Milvian said it's not just outsiders appropriating and profiting from this, but some of them are locals.
The AFEDES women decided that they needed to protect their heritage and now have one woman spearheading their legal strategies to lobby the national government for action on cultural theft and to introduce regulations. The women made a presentation in parliament on 28 June 2016 and continue their advocacy work.
I was impressed by the women – on one hand there is a feminine aspect to their work to learn and promote their ancestral knowledge about textiles and medicine. On the other hand, they are not afraid to organize and speak for their rights and lobby their government to step in with new regulations.
What I value most is the process of self-reflection to determine their grounding values and whether future projects align with these values. What big picture thinking for a small women's group, where most do not have more than a high school education! I feel humbled.
Rashmi Narayan
Guatemala
February 15, 2017